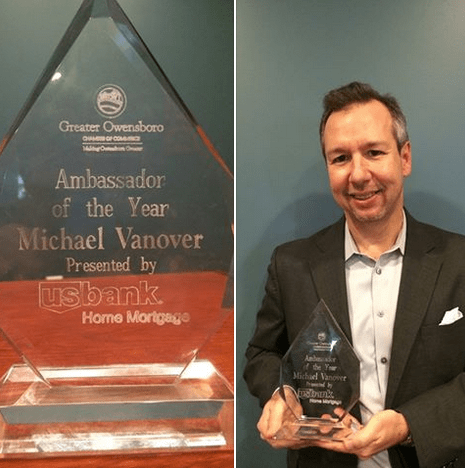 Congratulations to Michael Vanover on winning the Ambassador of the Year award from the Greater Owensboro Chamber of Commerce! We are proud of you, Michael!
BIO:
A graduate from McLean County High School('85) and Western Kentucky University('90), Michael Vanover moved back from Nashville, TN in the fall of 2010 after serving for 18 years in sales, account and territory management, and product development. Named "Top Performer" for 11 straight years in addition to earning National Presidents Club honors, Michael is a dynamic, sales and marketing professional with extensive knowledge in creating and establishing new business and business segments, as well as new business approaches. He Listens carefully to clients and has a history of providing a real solutions-based approach to any situation. He forms strong relationships across multiple customer and business segments, and is devoted to providing the best customer service possible.
Michael serves as an agent in all aspects of protections; from commercial to residential, from Property and Casualty to Health and Life, including Workers' Compensation and Long Term Care.
He serves in the Greeters Ministry at Owensboro Christian Church, and as an ambassador to the Owensboro Chamber of Commerce. He serves on the Board of Directors for Crossroads, Inc., a local 501c3 ministry devoted to feeding the poor, and is the Secretary for Owensboro Sister Cities & Regions. He also serves on the Board of Directors for the Owensboro Public Art Commission, and is a lifetime member of the Western Kentucky University Alumni Association, and Pi Kappa Alpha Fraternity.
Michael's enjoyments include hiking, running, cycling, mountain biking, canoeing, other outdoor activities, as well as music, travel, and cooking.