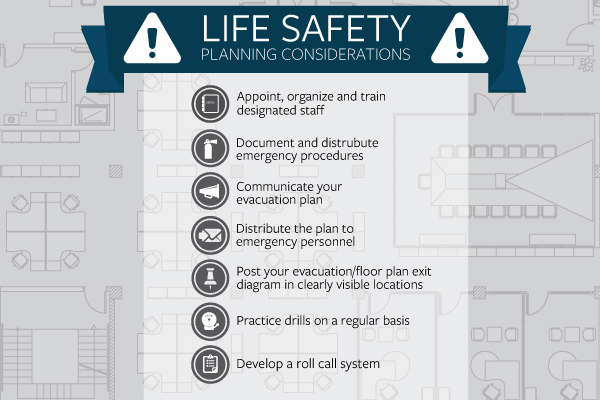 Emergency action plans for when the unthinkable happens
No one expects the worst to happen, but sometimes it just does. Whether it is a complete power outage or a fire breaking out in your break room, preparing for the unexpected should be part of your overall safety program.
While prevention should always be your first priority, preparedness may reduce the severity of the event and help maintain your employees' safety.
Emergency Planning is Your Responsibility
Every company should have a published, well-communicated and practiced emergency preparedness and life safety plan.
The National Fire Protection Association and the Occupational Health and Safety Administration (OSHA) provide codes, regulations and guidance on emergency action and fire prevention plans, including minimum standards. OSHA, in fact, requires a written emergency action plan for workplaces with 10 or more employees. Employers with fewer than 10 employees must still have an emergency action plan, but they may communicate the plan orally to employees.
Of course, a plan is only as good as its effectiveness, when put into action. How would your plan fare in a real emergency? Do your employees know what to do? These are questions to ask before an emergency happens.
Communicating, training and drilling are all essential elements to include in your emergency action plan, and can help make the critical difference in life safety outcomes.
Effective Planning Can Save Lives
In the first critical minutes of an emergency, taking the right steps can help save lives. Planning ahead and maintaining a well-trained emergency team can help make the critical difference.
Appoint, organize and train designated staff with their emergency response duties and responsibilities.
Document and distribute emergency procedures, including how to notify the fire department, evacuate employees and provide accommodations for those with special assistance needs.

Publish instructions for the use of emergency equipment, such as the voice communication system, the alarm system or emergency power supply system.
Post procedures for confining, controlling and extinguishing fires.
Post procedures for assisting the fire department in accessing and locating the fire.

Communicate your evacuation plan to all employees, visitors, vendors and contractors.
Distribute the plan to emergency personnel who will be responsible for taking actions to maximize the safety of building occupants, including the fire department and designated emergency management and supervisory staff.
Post your evacuation/floor plan exit diagram in clearly visible locations. Assign locations away from the building or job site for employees to gather.
Practice drills on a regular basis. Monitor and evaluate drill performance to consider improvements.

Include full, partial and shelter-in-place evacuations, designed in cooperation with local authorities, to familiarize employees with procedures.

Develop a roll call system to account for all persons and notifications to the fire department of any missing person.
Travelers safety professionals see a broad spectrum of businesses and facilities and understand the plans used to ensure emergency preparedness. Every day, we share our insights with our customers to help keep their businesses, and most importantly, their people, safe.
---
Photo & Article Courtesy of: travelers.com.